By: Dr. Elizabeth Eggert
Our smile is often the first thing that people notice about us, and it plays a significant role in our self-esteem and overall well-being. People who experience frequent dental problems, however, can feel robbed of that sense of contentment and confidence. Fortunately, advances in modern dentistry have made it possible to transform even the most challenging smiles into works of art. 
At Eggert Family Dentistry, we believe that everyone deserves to feel proud of their smile, which is why we use a combination of the records process and mock-up procedures to create new, beautiful smiles for our patients. 
While the records process provides the foundation for developing a comprehensive treatment plan, dental mock-ups provide a visual "preview" of the proposed treatment outcome. Let's explore how these techniques work and find out if they can help you achieve the smile of your dreams.
What is The Records Process?
The records process is a crucial step in the diagnostic and treatment planning process. It involves gathering and organizing all the necessary information about your dental and medical history, current oral health status, and treatment goals to create a comprehensive care plan.
The records process typically includes the following steps:
Comprehensive dental exam: For this exam, Dr. Jeff Eggert or Dr. Elizabeth Eggert will perform a thorough examination of your teeth, gums, and oral tissues. This may include taking dental x-rays, photographs, and impressions or scans of your teeth and bite.
Medical and dental history: We will then review your medical and dental history, including any medications or supplements you are taking, past dental treatments, any relevant medical conditions, or pain issues.
Diagnostic tests: We may order additional tests or procedures to aid in the diagnosis and treatment planning process. This may include periodontal (gum) assessments, oral cancer screenings, and sleep questionnaires.
Occlusal (Bite) Analysis: We will ask you to move your jaw through different motions as well as palpate your TMJ and muscles to check for consistencies with your bite.
Treatment plan: Based on the information gathered during the records process, we'll develop a customized treatment plan that addresses your unique needs and goals. This plan may include splint, restorative, cosmetic, or orthodontic procedures, as well as recommendations for sleep or medical follow-up, at-home oral hygiene, or preventive care.
Patient Stories:
The records process is essential for ensuring accurate diagnoses, effective treatment planning, and successful outcomes. It also provides a baseline for monitoring our patients' progress and adjusting treatment plans as needed.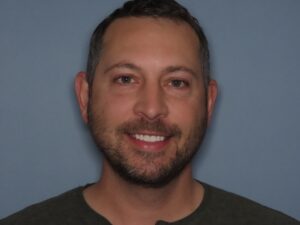 For example, our patient "M" had recently undergone corrective jaw surgery, but was still experiencing issues with his bite. To make sure we got a holistic picture of M's oral issues post-op, we put him through the records process and were able to determine that he needed to have his front teeth lengthened slightly to correct his occlusal imbalance. (Read M's full story here.) 
The records process also helps us to determine external factors that may be contributing to our patients' dental problems. For example, our patient Tom needed a full mouth reconstruction, but we were concerned that his bruxism would damage his new implants if we didn't correct the underlying cause of it. Because the records process provided comprehensive knowledge of Tom's other symptoms, Dr. Elizabeth Eggert was able to recommend further treatment that allowed Tom to sleep better and breathe easier at night. (Read Tom's full story here.) 

What is a Dental Mock-Up?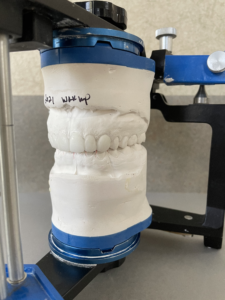 If the records process is the "blueprint" for your treatment plan, then the dental mock-up is the architectural model. 
A dental mock-up is a procedure used to create a three-dimensional replica of your teeth, gums, and surrounding tissues. It involves creating a temporary model of the desired outcome of a dental procedure, such as a full mouth reconstruction, to allow you and Dr. Jeff Eggert or Dr. Elizabeth Eggert to preview the results before moving forward with the treatment.
During the mock-up process, Dr. Elizabeth Eggert or Dr. Jeff Eggert will use dental material, such as wax or composite resin, to build up or reshape your teeth. This will allow you to see how your new smile will look and make any necessary adjustments.
Dental mock-ups are most commonly used for cosmetic procedures, such as porcelain veneers or an arch of new dental crowns. They are a valuable tool for both our office and our patients, as they allow for better communication and collaboration in the treatment planning process.
Are You Experiencing Constant Dental Problems?
At Eggert Family Dentistry, we take a holistic approach to oral health and want to make sure our patients not only have a beautiful smile, but a comfortable one too. If you're experiencing a constellation of oral health problems and are interested in learning more about these unique smile-transformation techniques, please contact us or call us at 651.482.8412 to schedule an appointment!