By: Dr. Elizabeth Eggert
How did this start?
Roxanne has been a long time, loyal patient with us since even before Dr. Elizabeth Eggert started in 2005.  In 2013 she went through the Records Process because she wanted to address jaw pain that had been getting worse since a car accident in 1981.  She also was unhappy with her tooth wear.  Dr. Elizabeth used models, photos, and x-rays of Roxanne's teeth along with our thorough muscle and joint evaluation to present Roxanne with the current health of her teeth, gums and the function of her jaw and muscles.  The details of the initial records process revealed that Roxanne would benefit from splint therapy in order to help her jaw and tooth pain.  Because of the tooth wear on her front teeth, Roxanne was hitting her back teeth very hard, especially when chewing, causing her muscles and joint to become overworked.  An anterior deprogrammer was recommended for her splint therapy, then veneers were recommended to change the length of her front teeth in order to eliminate the interferences of her back teeth.

What did Roxanne want?
Roxanne's main objective was to be pain free and have a fuller, brighter smile.  Roxanne underwent splint therapy with an anterior deprogrammer, but it wasn't quite enough to get her completely pain free.  She was "pain better," but not "pain free."  The stress in Roxanne's life compounded her pain and it took many years, including work with an orthodontist, a neurologist, an acupuncture specialist, as well as decreased stress in her life to get her to a stable enough position to address her cosmetic concerns.  
Roxanne wondered if bleaching alone would give enough improvement to her smile so she started with Zoom whitening.  Unfortunately, although Zoom helped whiten her smile, it wasn't to the extent she was looking for.  Plus, whitening alone couldn't lengthen her front teeth in order to eliminate the interferences in her bite and keep her pain stable.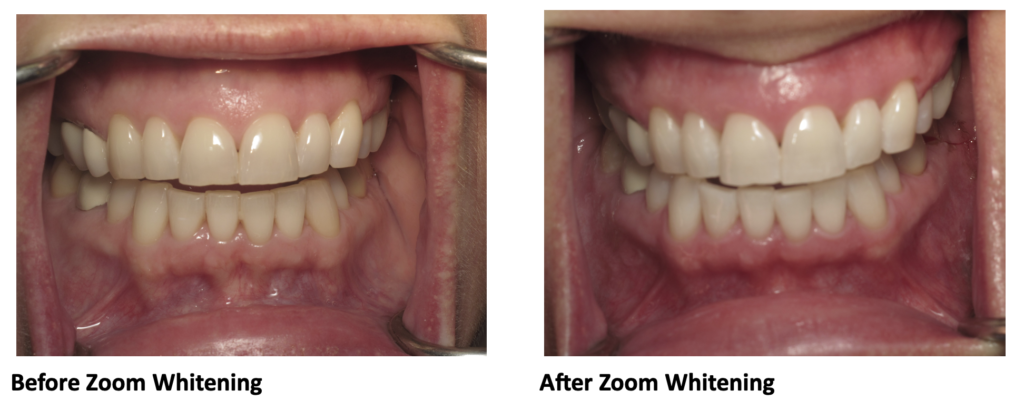 Therefore, Roxanne was ready to talk about a more comprehensive treatment option for her teeth.  Dr. Elizabeth recommended that Roxanne start with Invisalign in order to improve her crowding and gum tissue levels as well as give her tongue and airway more space.  Invisalign would be able to broaden her smile so she wouldn't have to do a full mouth of veneers or crowns to get the look she was hoping for.  
What was involved?
Roxanne underwent Invisalign treatment with the goals of improving her crowding, expanding her arch, creating space for porcelain veneers (which would introduce spacing between her teeth), leveling gingival tissue, and providing support for her joints and muscles.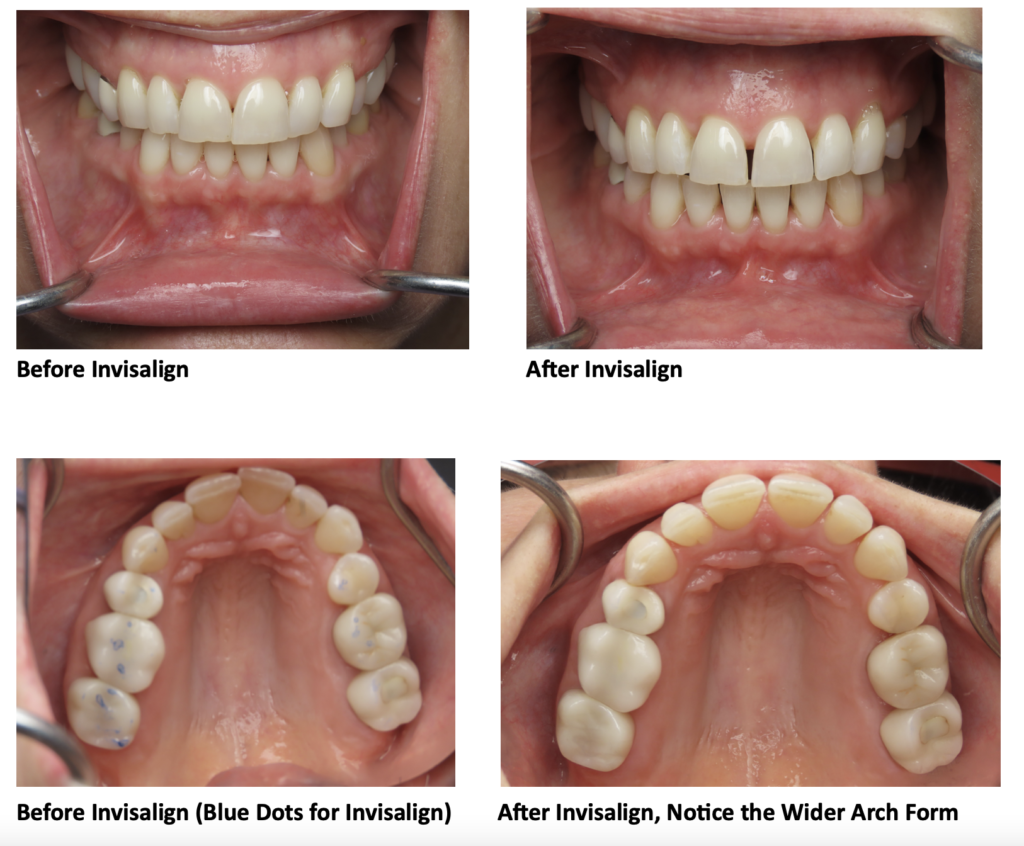 After only 7 months of Invisalign, Roxanne was then ready to plan for her restorations.  Before starting the final planning stage, Dr. Elizabeth performed equilibration to refine and finalize even contacts with her bite to keep her potential for future pain symptoms under control.  Roxanne wanted her teeth even and white and elected to restore 8 teeth on her upper arch and 6 teeth on her lower arch.  Roxanne did a lot of research before doing her veneers and wanted a "Hollywood Style" look.  The teeth were prepared for the restorations and in less than 3 weeks, Roxanne had her final results.         
What does Roxanne think of her results?
Before the procedures Roxanne was nervous about the time it took and the "permanency of it all," yet she was very confident in Dr. Elizabeth.  In her final interview, Roxanne said "Dr. Elizabeth told me exactly what would happen, what I should expect, and there were no surprises.  The timeline was just as discussed."  She also said, "My jaw feels great and my new smile is good.  It's what I was expecting."  She would definitely recommend the treatment to others and says that it is a team effort and you have to do everything that is expected of you for the best results.  Roxanne knows that having a better smile is fantastic.  "My smile is pretty important.  If you look better, you feel better!"  
Roxanne was also so kind to write a 5-Star Google Review of our practice and noted "Dr. Elizabeth and I completed a 9 month process of realigning my bite and correcting my dysfunctional jaw.  Along with a complete restoration of my upper and lower teeth.  The results were everything I had hoped for.  I appreciate her knowledge and dedication everyday when I look at my new smile!"  Thank you Roxanne!  You truly are a treasure for us!  We look forward to reading other 5-Star Google Reviews from our patients.  Submit yours today!