By: Dr. Elizabeth Eggert
How did this start and what did Jim want?
Jim has been a loyal patient of Dr. Elizabeth Eggert for over 15 years.  She has placed multiple posterior crowns for Jim over the years, but there came a time when Jim's front teeth, which had previously been treated with PFM (porcelain fused to metal) crowns, were decaying and needed to be replaced.  Jim was interested in getting his crowns all done in one day and he wanted them to look natural.  We were able to address his front four teeth in one 3-hour appointment and his two upper canine (eye-teeth) at a subsequent 2-hour appointment.
What was involved?
We were able to complete CEREC crowns for Jim's front teeth.  This means we were able to make the crowns right in our office!
How CEREC Works
CEREC (Chairside Economical Restoration of Esthetic Ceramic) is a method of creating dental restorations right at Eggert Family Dentistry in one appointment!  These restorations are typically used to repair damaged teeth due to decay or injury.
Specifically, restorations are designed and created using CAD/CAM (computer-aided design and computer-aided manufacturing).  This process means designs are made after scanning with a highly advanced scanning unit and then computer software helps Dr. Jeff and Dr. Elizabeth design your crown!  The design is sent to the milling unit and your crown is ready in minutes.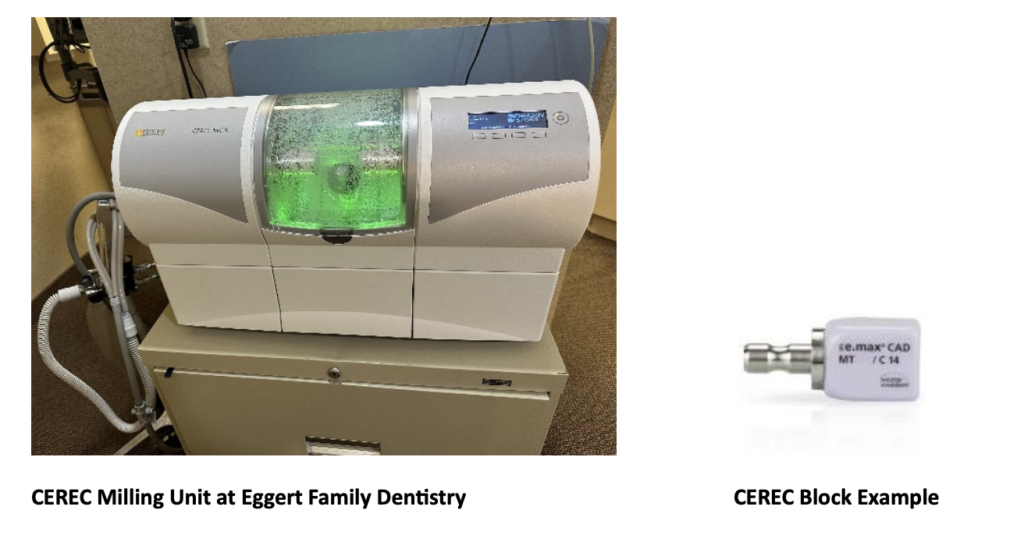 C – Chair-Side:  The CAD/CAM technology is in the office and can be used while you are the dental chair.
E – Economical:  The procedure allows our office to keep our costs as low as possible for patients.
R –Restorations:  The CEREC procedure restores your tooth to its natural beauty, function, and strength.
E – Esthetic:  CEREC restorations are metal-free and tooth-colored.
C – Ceramic:  The ceramics we are able to use in-office are similar in strength to enamel, your natural tooth structure.   
What does Jim think?
Jim loves his new smile and was so happy to be able to get all his crowns done without multiple visits and without the risks that comes with wearing temporary crowns (like them accidentally coming loose).  Jim's story is just one of many others who have experienced magnificent results with Dr. Eggert.  Crowns can yield beautiful and predictable results for accomplishing an improved smile.  At Eggert Family Dentistry, we love providing Dentistry for a Lifetime of Smiles – thanks Jim for trusting us to help you continue to smile big and confidently!