By: Dr. Elizabeth Eggert
Traditionally, if you went to the dentist for a crown restoration, the process would be spread across two appointments. During the first appointment, the tooth is prepared for the crown. This includes re-shaping the tooth to receive the crown and removing the damaged portion of the tooth. Depending on the amount of damage the tooth sustained, it may also require a core buildup. 
After that, an impression of the tooth is taken and sent to a dental lab, where the customized crown is created. You would leave the first appointment with a temporary crown on your tooth. 
Usually after two weeks, you would return for your customized crown. Your temporary is removed and the new crown evaluated for a good fit and cemented. 
Can a Crown Be Fabricated in One Visit?
At Eggert Family Dentistry, crown restorations can happen in a single visit using the CEREC crown restoration system! 
CEREC stands for Chairside Economical Restoration of Esthetic Ceramics. The system uses computer-aided design – also called CAD – to create permanent customized dental restorations immediately. While it used to take a dental lab a couple of weeks to create a crown, Dr. Elizabeth and Dr. Jeff use the latest technology – the CEREC crown restoration system – to create crowns in minutes. 
In a single visit, we can create a variety of perfectly fitting restorations, including:
Using the Prime Scan to Capture Perfect 3D Images of Your Teeth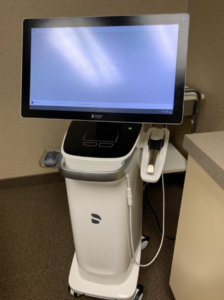 We are happy to now be using the latest scanning unit for our CEREC crowns. The CEREC Prime Scan is a recently developed scanning unit that captures highly detailed images of your mouth. 
Many of you had the opportunity to benefit from our previous scanning unit, the Omnicam, and it worked well, but the new CEREC Prime Scan can image even faster and with more detail. With the CEREC Prime Scan, Dr. Elizabeth and Dr. Jeff use a small handheld camera to scan your mouth for crisp, perfectly captured images of your teeth. 
Material Options for Crowns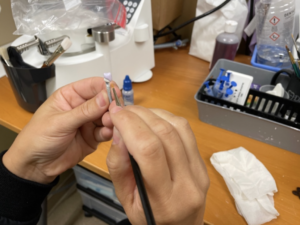 After taking a scan of your teeth, we're able to create a crown restoration in minutes. New crowns can be made of compressed porcelain, emax porcelain, or compressed composite resin. During your appointment, you can talk with Dr. Elizbeth and Dr. Jeff to determine what material is the best fit for you. 
Schedule an Appointment to Get Your Crown Restoration in One Visit
In the past, people procrastinated getting their recommended crown restorations for a variety of reasons. They were too busy to come in for multiple appointments. They had a bad experience with a temporary crown. Or they thought the process of getting impressions taken was uncomfortable. 
With the CEREC crown restoration system, that's all a thing of the past. 
Dr. Elizabeth and Dr. Jeff Eggert of Eggert Family Dentistry can complete the dental restoration work you need in a single appointment. Call our office at 651-482-8412 to schedule your appointment.