By: Dr. Elizabeth Eggert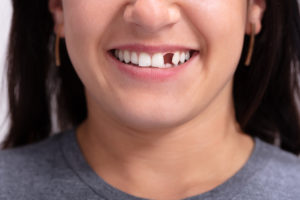 Losing a permanent tooth can be a scary situation. Unfortunately, missing a tooth can keep people from smiling – one of our favorite things! Fortunately, there are some excellent options when it comes to replacing a lost tooth. At Eggert Family Dentistry, we offer three primary solutions for missing teeth: implants, bridges, and partial dentures.
Implants
As opposed to bridges that are anchored to natural teeth, implants are titanium fixtures that are anchored to the jawbone underneath the gums. Once the base of the implants is securely fastened, Dr. Elizabeth or Dr. Jeff will place an abutment on the fixture and affix the realistic, tooth-looking crown.
All candidates for dental implants must have healthy gums and a sturdy jawbone. Implants are most similar to natural teeth and can last for decades.
Bridges
Bridges "bridge" the gap left behind by the missing tooth with a prosthetic, or fake, tooth. Bridges have been used for ages and they generally hold up well. They can be more difficult to keep clean since teeth are fused together.
There are three main types of bridges:
Traditional bridge: These bridges join the natural teeth with fake, or pontic teeth. Traditional bridges are the most common types of bridges and are anchored by crowns on the natural teeth.
Cantilever bridge: These bridges are similar to traditional bridges. However, they only anchor to one natural tooth as opposed to two. It is much more difficult to assure the bridge can withstand chewing forces, but cantilever bridges can be good for certain situations.
Maryland bridge: These bridges fuse the pontic tooth to the back of the adjacent teeth with metal bands. Again, a Maryland bridge isn't able to function as well as natural teeth, but under some circumstances, they are nice as they are very conservative for the anchor teeth.
Partial dentures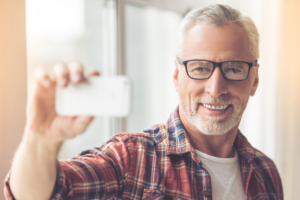 Partial dentures, or partials, are fake teeth attached to a metal frame. The frames have a plastic, gum-colored base, camouflaging them amidst the natural teeth and gums. Partial dentures fit fairly snugly between the natural teeth and can sometimes be repaired if necessary.
Dentures have been a popular go-to because they are often less expensive than bridges or implants. However, they can take some time to adjust to since they will never function as well as natural teeth.
If you're missing a permanent tooth, give us a call at 651.482.8412. We would be happy to schedule a consultation for you with Dr. Elizabeth or Dr. Jeff in order to help you determine which solution is right for you!