By: Dr. Elizabeth Eggert
There are certain situations at Eggert Family Dentistry when we need to collaborate with other physicians to provide the best possible care for our patients. Especially as we have worked to integrate more airway into our practice, many of you have been asked to seek out care with a board-certified ENT for a more integrated approach to dentistry.
In this article, we will provide information about how certain medical conditions may be linked to your airway and therefore situations where it may be best to collaborate with an ENT. We will also launch into more specific information about some of these conditions below.
Sleep – if you have trouble snoring, falling asleep, staying asleep, trouble with restless sleep, you wake up feeling unrefreshed, or issues with nighttime urination, these can all be linked to airway issues.
Other Health Conditions – ADHD, allergies, anxiety, birth defects, cardiovascular disease, chronic head and neck pain, chronic pain, daytime fatigue, depression, digestive issues, emotional problems, frequent colds, sinus problems, sore throats, or tonsillitis, grinding or clenching of teeth, headaches, high blood pressure, jaw locking, large tonsils or adenoids, memory loss, mouth breathing, neck aches, obesity, pain or clicking in jaw joint, previous orthodontics, PTSD, speech problems, sucking habits, tonsillectomy, adenoidectomy, or type II diabetes can all be linked to airway issues.
Dental Observations – there are many dental conditions that can be linked to poor airway flow as well such as crowded teeth, deep overbite, forward head position, head tilted back, mouth breathing, narrow dental arches, recessive lower jaw, scalloped tongue, tongue thrust, tongue tie or tooth wear.
Snoring and sleep apnea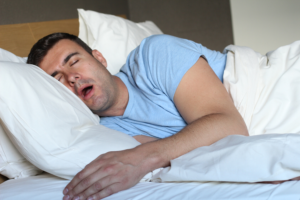 Sleep apnea is a serious condition that can lead to several other serious medical conditions. In cases where our patient is struggling with sleep apnea, Dr. Elizabeth or Dr. Jeff can often link what they see with the teeth, jaw, and muscles (like the tongue) to aid in determining the cause. Does our patient have inadequate space for the tongue based on the size of the jaw? Is the root of their condition the size or shape of their soft palate? How does the alignment of the teeth play in? Once this is determined, the best course of treatment is pursued. It is often helpful both during the diagnostic phase as well as during the treatment phase to collaborate with an ENT. This allows us to look at the situation from all facets and choose the best course of treatment.
Beyond sleep apnea itself, there are other sleep disordered breathing diagnoses or simply disordered breathing at all times, that can be detrimental to overall health. ENTs or other medical professionals can often help us navigate through treatment options.
Enlarged tonsils and adenoids
Enlarged tonsils and adenoids in children can cause facial and jaw deformities as a child grows. When Dr. Elizabeth or Dr. Jeff notice enlarged tonsils or adenoids and determine that the enlargement is not simply due to a virus, we will often refer our patient to an ENT for a consult.
Sinus problems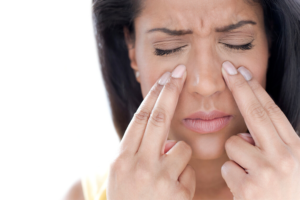 If a patient comes into our office with jaw pain, Dr. Elizabeth or Dr. Jeff evaluate many things, including the patient's teeth and jaw. Because sinus problems can be a contributing factor to teeth and jaw discomfort, if their examination is inconclusive, Dr. Elizabeth or Dr. Jeff will refer our patient to an ENT for further evaluation.
In some cases, mucus can build up in the sinus cavity, causing sinusitis and leading to halitosis (bad breath). If halitosis is present (often in combination with jaw discomfort), this is another situation where Dr. Elizabeth or Dr. Jeff will most likely refer our patient to an ENT.
TMJ disorder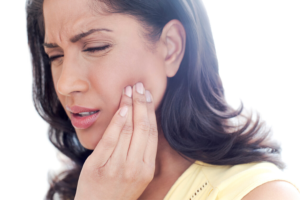 Another common cause of jaw pain is a disorder of the temporomandibular joint (TMJ). At Eggert Family Dentistry, we most commonly treat TMD by providing our patient with a splint or night guard. In severe cases, full-mouth reconstruction may be necessary. However, if we are unable to make a dental determination for the jaw pain, we can refer our patient to an ENT for a CT scan or an MRI to rule out bone and joint issues.
At Eggert Family Dentistry, we go above and beyond to make sure each one of our patients receives superior care. This often means referring our patient to or collaborating with a board-certified ENT for further investigation. If you'd like to schedule an appointment with us, give us a call at 651.482.8412!