By: Dr. Elizabeth Eggert
How did this start?
Jasmine came to us in the summer of 2020 with several concerns that included advanced periodontal disease, several missing teeth, and current tooth and gum infections.  She was having a lot of pain.  Unfortunately, her situation was compounded due to complications from trauma that had occurred from an accident thirty years prior.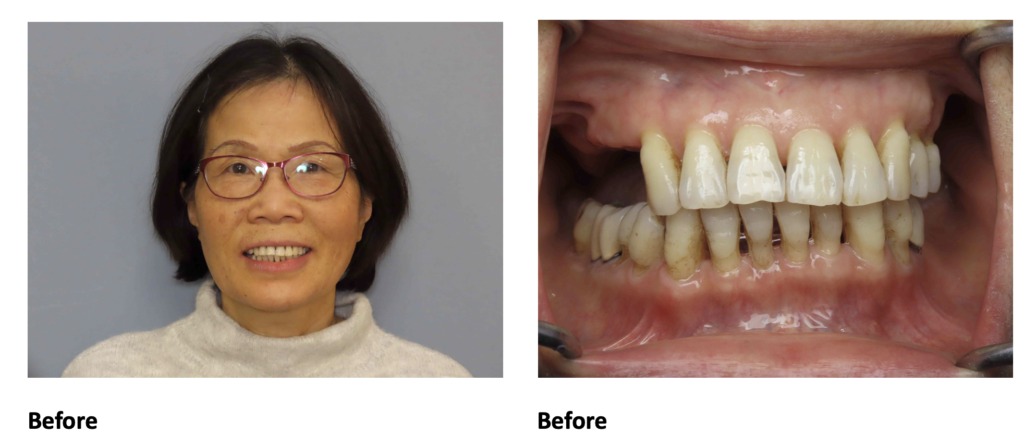 What did she want?
After several years of treatment for periodontal disease with a periodontist to try to save her natural teeth, Jasmine wondered if it was time for complete dentures.  She had a friend in China with complete dentures that she liked very much.  Dr. Jeff Eggert talked with Jasmine about all tooth replacement options including implant supported options as well as full traditional dentures.  Jasmine noted it was important to her that she get out of pain, but she wanted her tooth replacements to be very stable and allow her to chew naturally as she was only using her front teeth now.  She was very concerned about the costs involved with implant supported dentures and didn't like the idea of full dentures slipping all over her mouth.  After many discussions of the pros and cons to all treatment options, Jasmine decided that she wanted to do removable partial dentures.  She felt this would be the best option for her because it would be less expensive overall and she would still have some anchorage from her remaining natural teeth.  Even though Jasmine has suffered from periodontal disease, she still had a number of natural teeth to work with that could help support a partial denture.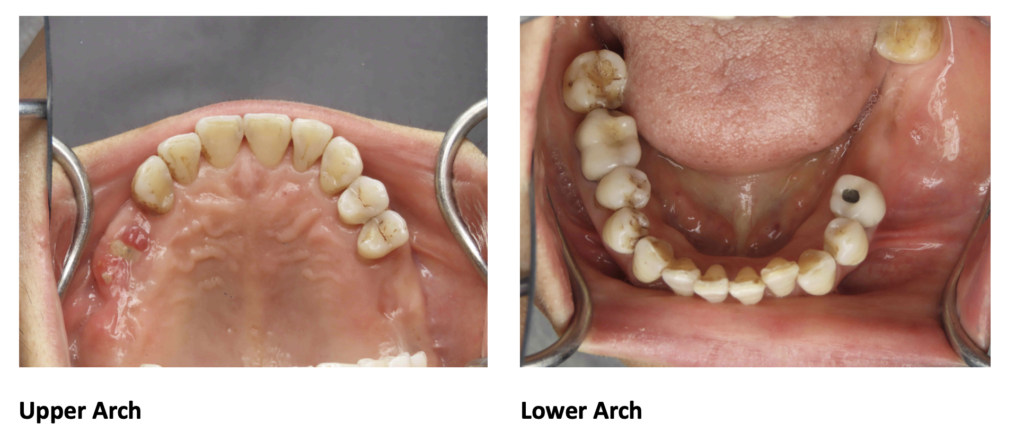 What was involved?
Jasmine and Dr. Jeff discussed several options and decided to do both upper and lower partial dentures.  Jasmine had two remaining upper teeth that were severely infected from periodontal disease.  These teeth had to be removed, otherwise the new partial denture would increase the infection.  The planning for Jasmine's partial dentures was done before these teeth were extracted and on the day Jasmine underwent the final fitting for her new partial dentures, Dr. Jeff Eggert removed the two teeth.  Jasmine was excited to have her new partials.  She was given care instructions and guidance for inserting and removing the partial dentures on her own.
What does she think?
Jasmine was a little nervous before the procedure because she had had some poor experiences with a temporary partial denture made by one of her past dentists, but she had lost a lot of teeth and her chewing was really affected.  She says that everything now is much better especially now that she can use her lower left side for chewing hard foods.  She notes, "They fit in my mouth very well and feel comfortable."  She was pleased with the cost and how well the new partials look and feel.  Of Dr. Jeff's work, she notes "This clinic can do partials very well and is affordable!"  Congratulations on your new partial dentures Jasmine!  Thanks for putting your trust in us at Eggert Family Dentistry!