By: Dr. Elizabeth Eggert
Our young patients love to talk about the Tooth Fairy. Many times this is a child's first experience receiving cash for something they did – as opposed to receiving money as a gift. The Tooth Fairy has been a frequent visitor in American homes for many years. This tradition has helped generations of children through the sometimes unpleasant process of losing their baby teeth.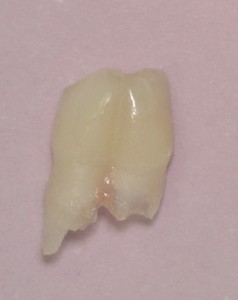 There are numerous stories and rituals about the Tooth Fairy  Reportedly, hundreds of years ago, European children would bury their teeth. This symbolized that a new tooth would soon grow in its place. In other countries, a widely documented ritual involved offering the lost tooth as a sacrifice to a mouse or rat. The practice was done with the hope that the child's adult teeth would grow in as strong and sturdy as a rodent's.
By the 1900s, Tooth Fairy stories had migrated to the United States, and soon after became an established part of American folklore. But how did we get to a point of envisioning the Tooth Fairy as a flitting sprite? With a lot of help from movie animation. It could also be the fact that a child would rather have a fairy sneaking around his/her room at night rather than a rat.
Plus, fairies have pixie dust. What's more fun than that?
The Tooth Fairy serves as a source of comfort during an experience that can sometimes be scary or even traumatic. The loss of a baby tooth is the first rite of passage in a person's life, and probably the most frightening. As part of that rite of passage, it is also seen as a way to introduce children to the concept offiscal responsibility.
According to the August 2015 Visa annual survey, the Tooth Fairy is leaving an average of $3.19 per tooth under kids' pillows. The Tooth Fairy must be feeling the pinch of economic times. For two years now, lost tooth amounts have steadily dropped – decreasing 24 cents from 2014 and 51 cents from 2013.
The Visa survey, of 4,000 people, found that the most common monetary gift from the tooth fairy is $1. [Interestingly dads report Tooth Fairy gifts being 27% more generous than reports from moms.] Kids are collecting about $64 in all when converting to a mouthful of adult teeth, which is down about $10 in the last two years.
Looking for some cute and creative Tooth Fairy ideas? Try:
Remember, children should be seen soon after the eruption of their first tooth. The team at Eggert Family Dentistry works hard to provide a relaxed, non-threatening environment for your child. Put your kids on the path to excellent oral health by calling us at 651-482-8412. We even have tooth fairy boxes!