By: Dr. Elizabeth Eggert
Parents often ask us when a child should first be seen by a dentist. The answer to this question surprises them.
In order to prevent dental problems, plan on scheduling your child's first trip to see us before his/her first birthday. A guideline that we typically use is about six months after eruption of the first tooth. Don't forget, decay can occur as soon as a tooth appears.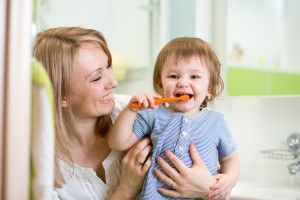 Studies show that many children are now getting cavities as early as age two. Sadly, we are seeing this. Taking your child to see us, at a very young age, is the best way to prevent these childhood cavities. It also helps acclimate your child to the dental office and paves the way for stress-free visits in the future.
Before bringing your child in, make sure to ask us what the child can expect at the first visit. This way, there won't be any surprises for you, or your child. Bring a list of questions – we love talking about oral health!
At your child's first dental visit, plan on discussing:
how to clean an infant's or toddler's teeth,
fluoride needs,
finger and thumb sucking,
dental milestones in a child's early years, and
how a child's diet affects his/her oral health.
Before leaving our office, you'll have a clear idea about:
your child's development,
what you can do to promote good oral health,
any foreseen problems, and
follow-up actions.
Bringing your child to the dentist early, and regularly, leads to a lifetime of good oral habits. After the age of two, plan on bringing your child in for a check-up every six months. Starting as early as age three, we attempt to take x-rays to check for decay between the teeth. Sealants are placed to prevent decay as soon as the permanent molars erupt, usually about age six.
With a little preparation, going to the dentist with your child can be stress free. The team at Eggert Family Dentistry works hard to provide a relaxed, non-threatening environment for you and your child. Put your child on the path to excellent oral health and call us today at 651-482-8412.