By: Dr. Elizabeth Eggert
How did this start?
KE (patient prefers initials only) came to us as a new patient late in 2020 during the height of the COVID-19 pandemic.  She had some existing restorations and implants.  She mentioned at her first appointment, that she would eventually like new veneers, but she had her current set done over 30 years ago and did like them so she was nervous to proceed.  After a few more visits at the practice, it was evident that her veneers were starting to decay and when one fractured in half, she knew it was time to start the process to get new veneers.  KE also believed that her veneers were "very old and wearing out."  She also questioned whether or not she could do something about her lower right canine, reporting "I just have never liked that tooth, what's wrong with it?"  KE went through the records process to determine the best restorative options for her concerns.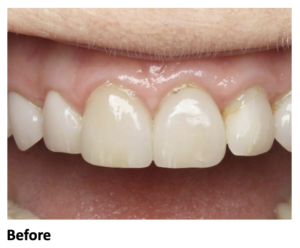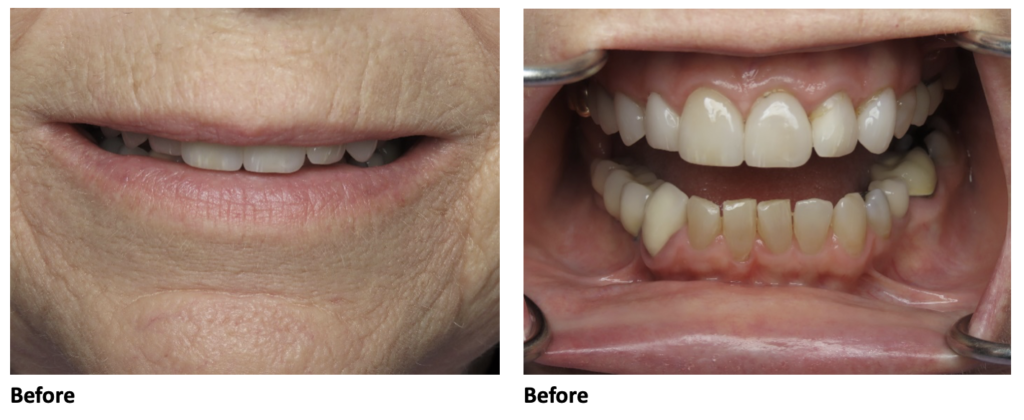 What did she want?
KE wanted to replace her existing veneers on her front teeth and be sure that the gum line would not show any darkness as she had noticed that problem on a few friends recently.  She wanted her smile brighter and refreshed.  Dr. Elizabeth took all of KE's concerns into consideration during the records process and incorporated that into her recommendations. 
KE mostly wanted her new veneers to look very similar to her existing, but "a little brighter."  She didn't want to do anything to address her bite, which did show some signs of disharmony, so in order to lessen the risk of fracture for her new veneers, KE agreed that changing the tooth shape slightly would be ok.
What was involved?
During the treatment presentation, Dr. Elizabeth discussed her findings with KE and presented a customized treatment plan based on the information gathered with KE's records process.  Dr. Elizabeth recommended that KE start her treatment with splint therapy to confirm a consistent jaw position and muscle comfort before completing new restorations.  KE wasn't interested in this and was willing to accept the risks in moving forward with treatment.
It was decided KE would get 6 new porcelain veneers to replace her current veneers on her upper front teeth.  KE also thought she might want to replace the crown on her lower right canine.  A lab wax-up was completed to obtain a blue print for the restorations and a mock-up was done in KE's mouth so she could "preview" the results.  She was excited to move forward!  
Before replacing the veneers, KE underwent the Zoom in-office bleaching procedure since she wanted to brighten her teeth.  Zoom helped to brighten her lower front teeth so much that the crown on her lower right canine wasn't as noticeable and KE elected not to replace that crown at this time.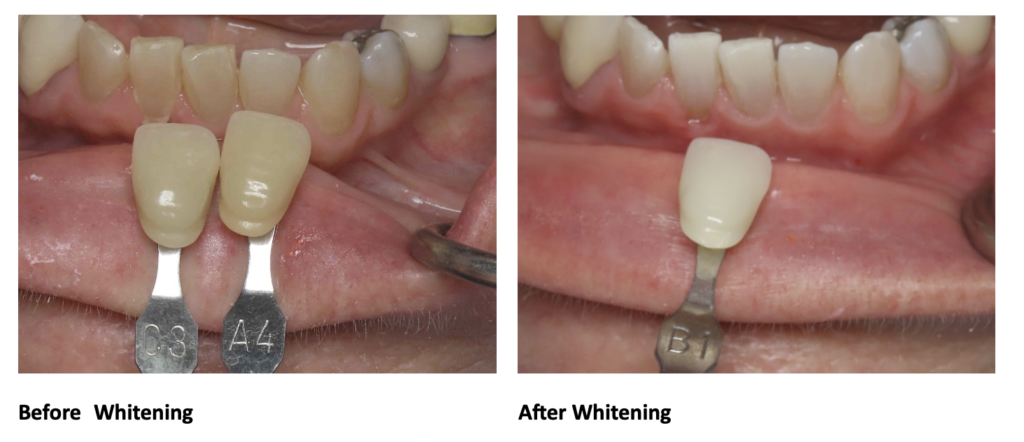 What does she think?
KE said that she feels the entire process went on "without a hitch" and that Dr. Elizabeth did a great job preparing her for what to expect.  KE said,
"I am relieved and pleased with the results, and I can be pretty picky!"  "I would highly recommend the treatment and the whole crew, it was very professionally done and very effective as well." 
Thank you for putting your trust in us KE!  It is a pleasure serving you at Eggert Family Dentistry!