By: Dr. Elizabeth Eggert
At no other time in a woman's life is nutrition as important as when she is eating both for herself and for her unborn baby. A growing baby requires a high concentration of vitamins and minerals – nutrients that will largely determine his or her health at birth and in certain capacities, for the rest of his or her life. That being said, healthy eating is critical during pregnancy…and it all begins with knowing the facts.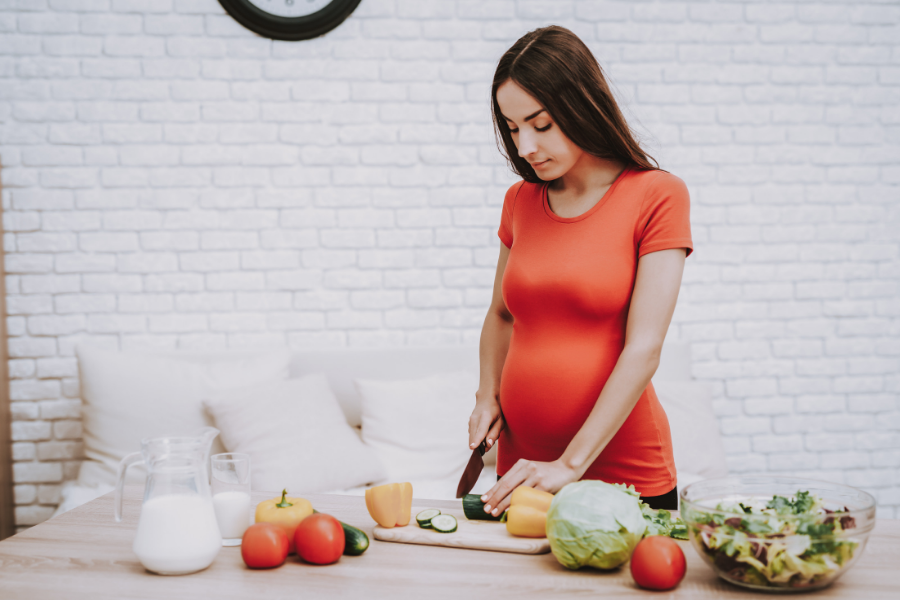 If you're an expectant mother, consider these important tips for a nutritious diet:
Eat a rainbow every day.
You've likely heard this advice before but it couldn't be more true. Incorporating a wide variety of healthy foods into your daily diet ensures that you and baby receive a wide variety of vitamins and minerals. Make an effort to include fruits and veggies, whole grain breads and crackers, dairy products and proteins every day – and as many as you're able – into each meal.
Dental detail: Your growing baby requires a good amount of calcium for growing bones and teeth and will take calcium from your bones and teeth if your diet doesn't provide an ample amount. Don't neglect dairy, especially during pregnancy!
Reduce your sugar intake.
This may mean putting your sweet tooth in its place if it's getting a bit out of hand! Saying no to high-sugar foods like cookies, cake, ice cream and pop in favor of fruit, naturally sweetened foods and beverages, yogurt and nuts will help ward off gestational diabetes and ensure that you're giving baby calories that count.
Dental detail: Sugary foods and beverages eat away at tooth enamel. Choose healthy substitutions as often as possible and be sure to brush, floss and rinse your mouth after consuming sugar.
Drink more water!
Hydration is of heightened importance during pregnancy. An expectant mom's body demands more fluids to accommodate increased blood volume. Conversely, dehydration can lead to contractions and preterm labor. Milk is also a healthy, calcium-rich choice!
Dental detail: Choosing fluoridated water whenever possible is an investment in your mature teeth as well as in baby's developing teeth. Fluoride strengthens enamel and creates a protective surface around teeth that helps ward off sugars and acids that threaten their integrity. Extra water will also help stave off pregnancy-induced gingivitis.
Seek out sources of folic acid.
In order to prevent serious birth defects such as spina bifida, make sure you consume a minimum of 600 mg of folic acid in your diet each day. Good sources of folic acid include asparagus, broccoli, leafy greens, beans, oranges, strawberries, bananas, fortified cereals and grains…among many others!

Dental detail: Many fruits and veggies high in folic acid are also high in calcium – broccoli, spinach, kale, oranges…A dental win-win!
Take prenatal vitamins.
You only get one chance to grow your baby healthy. Because it's virtually impossible to get all the nutrition you and baby need from diet alone, taking a daily prenatal vitamin is a smart choice.
Dental detail: Prenatal vitamins are loaded with many vitamins and minerals including ample calcium, vitamin D, phosphorus and vitamin A – building blocks of healthy mature and developing teeth.
If you're expecting or planning on getting pregnant and would like to learn more about nutrition for growing and maintaining healthy teeth, we would love to discuss this with you at your next appointment. You can make your next appointment at Eggert Family Dentistry by calling us at 651.482.8412 or by connecting with us online!