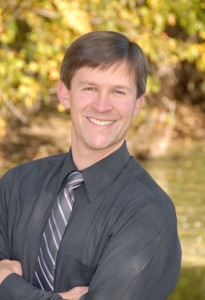 By Dr. Elizabeth Eggert
Eggert Family Dentistry's Dr. Jeff loves being able to have a positive, personal effect on his patients' lives. Here's your chance to get to know Dr. Jeff in his own words, including something most of his patients don't know about him.
Why did you choose to go into dentistry?
The main reason I went into dentistry was to have a hands-on, personal, positive impact on people's lives. Before dentistry, I worked as a chemical engineer at a small medical device company. Designing devices had a positive impact on people's lives, but I did not have the opportunity to build relationships with the people I helped.
What sets you apart from other dentists?
The one thing that sets me apart from other dentists is that I always try to listen to any concerns people have and make sure these concerns are addressed. I spend the time to thoroughly answer my patients' questions, whether it is a question about a filling or something more complex that might have multiple treatment options. I like to make sure patients' questions are answered and that they are comfortable with the treatment they receive.
Tell us about your family.
I grew up in Spring Lake Park and attended Spring Lake Park schools. I have one younger brother who teaches there, and my parents still live there. Dr. Elizabeth and I will be married 17 years in July. We have five boys who seem to be growing like weeds. They attend school in the Mounds View district.
What are some of your hobbies outside of dentistry?
I enjoy reading and trying to stay in shape (keyword: trying!). I spend a lot of time in basketball gyms and at baseball and soccer fields watching our boys play sports. I like to help out with their sports teams when and where I can. Lastly, along with many other Minnesotans, I like to cheer for teams that often don't do very well (for me, that's the Vikings, the Twins, and the Gophers).
What is something most of your patients don't know about you?
I worked a number of years as a chemical engineer before becoming a dentist. I'm proud to call myself a math and science geek. I'm also a big Star Wars fan and can't begin to count how many times I've seen all the movies.
Dr. Jeff's Hours at Eggert Family Dentistry
Monday:  10:00 am to 6:00 pm
Wednesday:  by appointment
Friday:  7:00 am to 3:00 pm