By: Dr. Elizabeth Eggert
Where did Kyle start?
During one of his routine recare visits, Kyle mentioned to Dr. Elizabeth that he had frequently noticed himself clenching his teeth throughout the day which was causing jaw pain and tooth sensitivity. Kyle also mentioned he was interested in doing Invisalign® to help fix some minor crowding of his front teeth. Dr. Elizabeth discussed the importance of stabilizing his bite prior to doing any orthodontic treatment to help ensure the best results through splint therapy.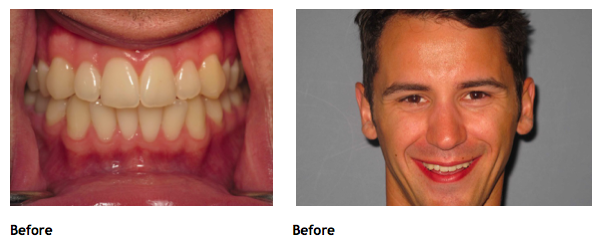 What was involved?
Kyle began his treatment with splint therapy. He wore a TMJ splint approximately 20 hours a day and came in multiple times to see Dr. Elizabeth and re-evaluate his progress. After wearing his splint consistently for about three months, Kyle noticed significant improvement in his symptoms and Dr. Elizabeth determined he was ready to move forward with Invisalign®.
We sent impressions, photos, and x-rays of Kyle's teeth to Invisalign® where they created a 3D simulation, called a Clincheck, to show how his teeth could move with Invisalign® treatment. Kyle was very happy with the simulation, which showed a significant improvement to his crowding, and decided to move forward with Invisalign®.
Kyle's case was expected to consist of 18 aligners that he would wear for one to two weeks at a time. As part of his Invisalign® treatment, Dr. Elizabeth slenderized some of Kyle's teeth to create more space for his teeth to better alleviate his crowding. Kyle was very consistent in wearing his aligners as instructed, but as he progressed through his treatment Dr. Elizabeth noticed that some of his upper teeth weren't moving as quickly as his Clincheck had projected. Dr. Elizabeth discussed this with Kyle and he opted to send his case back in for a refinement, which ended up extending his treatment by an additional 22 aligners. After his Invisalign® treatment was complete, Dr. Elizabeth made minor alterations to the biting surface of some of Kyle's teeth to remove interferences and even out his bite. This process is called equilibration and will help to prevent Kyle's new smile from further wear.
What does Kyle think?
Kyle had very realistic expectations about his treatment beforehand and understood that correcting his bite wouldn't be a quick process. Although his treatment ended up taking longer than initially expected, Kyle said the results were well worth it. In addition to the cosmetic improvements to his smile, Kyle noted his bite feels better as well, saying "I don't have any pain now that my teeth are in the right spot."