By: Dr. Elizabeth Eggert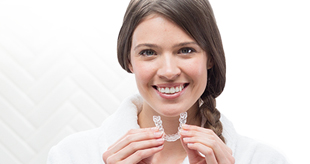 In our previous post we introduced Invisalign® treatment as a great alternative to traditional braces. At Eggert Family Dentistry, we believe that thorough research is imperative to making your best decision. If you are considering Invisalign® there are some important questions you may want to ask prior to pursuing treatment.
Q: How long can I expect Invisalign® treatment to take to achieve my desired results?
A. Treatment can take anywhere from 6-24 months depending on the amount of correction needed. Patients move through a series of custom fit trays, called aligners, that slowly move the teeth and jaw into proper position. For a patient whose teeth are extremely crowded or who have an overbite, underbite or crossbite, they will need more custom aligners to straighten and reposition everything. Typically, aligners are replaced every two weeks and patients move through between 5 and 50 aligners during the course of their Invisalign® treatment.
Q. What are the benefits of Invisalign® as opposed to metal braces?
A. There are quite a few aspects of treatment that make Invisalign® more appealing than metal braces.
Because aligner trays can be removed for brushing and flossing teeth, Invisalign® doesn't lend itself to "braces breath" – the brushing and flossing process is much more thorough and certainly more efficient.
Aligners don't involve wires and brackets so they are far less irritating to the tongue and the inside of the patient's cheeks. Although you may experience a sore mouth you likely won't have to deal with sharp, poking pain.
Q. How do I care for my aligners?
A. It's important to keep aligners clean. This means regularly brushing aligners with your toothbrush and water. Also, storing aligners in distilled water when not in use is important, as dry aligners are prone to bacteria growth.
Q. Will I talk funny when I'm wearing my aligners?
A. You will likely notice yourself lisping at first as you adjust to your new aligners. This is perfectly normal! Fortunately, our brain trains our tongue to speak around this new "obstruction" and within 2-3 days normal speech returns.
Q. Can I eat and drink with my aligners in?
A. Although you could potentially eat with your aligners in place it would be much more difficult and can encourage cavities to form since the food gets stuck underneath the aligners and on the teeth. We recommended removing aligners before eating. They can be easily worn when drinking and should they stain from coffee, tea or other beverages, they are replaced frequently.
If you have additional questions about what you can expect from an Invisalign® treatment, contact Dr. Elizabeth and Dr. Jeff to schedule your consultation!