By: Dr. Elizabeth Eggert
I hear the word "plaque" frequently but what exactly is it?
Plaque is a biofilm in your mouth—a sticky, invisible colony of both good and bad bacteria. Because these bacteria multiply rapidly, they're always in your mouth, even after you brush your teeth. The problem arises, however, when you consume sugars or carbohydrates. The bacteria feed off of the sugars and produce acid in the process.
What are signs of plaque that I should watch out for?
The acid produced by the plaque begins to eat away at your tooth enamel. Over time, this can lead to tooth sensitivity and eventually tooth decay. When plaque is left untreated, it can build up on your teeth and turn into tartar (also known as calculus)—a hard yellow calcified deposit. Other signs of plaque include chronic bad breath and tender, swollen gums, gingivitis and periodontitis. In even more serious cases, plaque can lead to tooth infections or abscesses and eventual tooth loss.
How can I prevent plaque from building up in my mouth?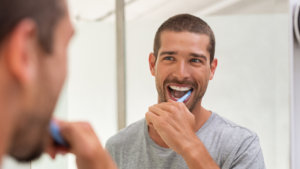 There are a few primary ways you can keep plaque from getting the best of you (and your mouth)!
Limit sugar and carbs. Sugar is plaque's best friend and your mouth's worst enemy. It's the catalyst for plaque's production of enamel-eating acids. Because carbs break down as sugar, they are just as much to blame. When you choose to limit the intake of these foods, you don't give plaque as much opportunity to create this acid in the first place, promoting a better bacteria balance and oral microbiome.
Brush and floss frequently. If you eat sugars and carbs, which most people do, preventative care is important. Make sure to brush your teeth and floss between them twice a day and after consuming these foods. This helps remove food particles from your mouth and discourages the destructive chain reaction of acid production, enamel erosion and tooth decay.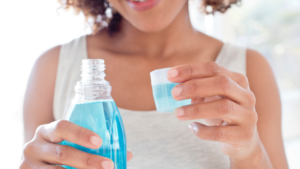 Swish with mouthwash. It's easy to brush and floss but not take the process any further. When you swish with fluoridated mouthwash afterward, you dislodge any residual food particles. Plus, the fluoride repairs and strengthens your enamel which may already be eroding due to past exposure to sugar-producing acid.
If I notice plaque or tartar, what do I do?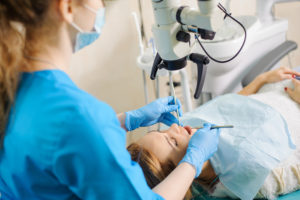 Reducing sugars in your diet in addition to stepping up your oral hygiene game can combat plaque buildup before it becomes a bigger problem. A thorough polishing by one of our hygienists during your recare visit will also help reduce plaque on and in between your teeth.
If you notice tartar forming from plaque that has built up over time, you will not be able to remove it on your own. Again, a recare visit and routine cleaning at Eggert Family Dentistry will help! Using our special plaque and tartar removing tools, we can give your mouth a fresh start…before your teeth are compromised and your gums become infected!
Give us a call today at 651.482.8412 to set up your next appointment!