By: Dr. Elizabeth Eggert
As we covered in our previous post, people experience varying levels of anxiety about going to the dentist. There is, however, a percentage of the population that experiences dental phobia and avoids the dentist altogether. Fortunately, Dr. Elizabeth and Dr. Jeff of Eggert Family Dentistry recognize this struggle and work hard to ease patients' fears.
Ways to ease dental phobia
According to the Dental Research Journal, 5-14% of people battle dental phobia. If you count yourself among this group and avoid routine dental care on account of irrational fears and feelings of terror, you will be relieved to learn that there are some excellent ways you and our dentists can work together to ease your phobia:
Music: Routine cleanings and most procedures are conducive to headphones. If you want to play music to calm your nerves, please do. We have overhead music, but if you prefer to listen to your own, bring your personal music device along. We have headphones available or you can bring your own.
Cable TV: It is also possible to watch your favorite TV shows as we have cable TV available with headphones in every procedure room.
Calming techniques: Sometimes the best way to ease your nerves in our chair is by practicing a variety of calming techniques. Deep breathing and visualization are two great go-to's! Dr. Elizabeth and Dr. Jeff, as well as their assistants, Tracy and Heather, are very good at recognizing when you might need help with your breathing and are great at coaching you through any difficulties.
Hand signals: If feeling like you have no control when you're in the dentist's chair feeds your anxiety, speak with us about the use of hand signals. Communicating with us by simply raising your hand when you need a break or if you are experiencing any pain during your appointment can be enough to take the edge off that helpless feeling.
Communication: Talk about your fears with Dr. Elizabeth, Dr. Jeff, and our team. Sometimes, just having those fears validated is enough to quell them. This also gives us an opportunity to offer you updated information about the impending procedure and correct any misconceptions.
Medications: If you struggle with dental phobia, there are some sedatives available, but often aren't needed when the techniques above are implemented. We also can use nitrous oxide gas (laughing gas) as an especially safe and effective in-office choice.
Our Comforts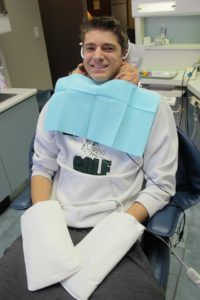 At Eggert Family Dentistry, we work hard to make sure our patients are physically comfortable and mentally at ease. That's why we have available a variety of comforts:
Warm neck and hand wraps
Spa hand treatments
Nitrous oxide
Comfy blankets
Headphones
Coffee, tea, water
Wi-Fi
Cable TV in every treatment room
State-of-the-art technology, including:
-Intraoral cameras – Your dentist or hygienist can take pictures of what they are seeing in your mouth to help them explain to you why they are recommending certain treatments.
-Laser dentistry – It's typically more comfortable and less invasive than traditional methods.
-Digital x-rays
Relaxed environment
Wooded scenery great for wildlife viewing
Convenient location
Tracy talks about the comfort measures at Eggert Family Dentistry.
If you want to learn more about the Comforts we offer and how we ease dental phobia here at Eggert Family Dentistry, give us a call at 651.482.8412. We are happy to further discuss how we can make your next visit your best one yet!