By Dr. Elizabeth Eggert
Do you deal with snoring, gasping for air in your sleep, a dry mouth, headache in the morning or daytime fatigue? Sleep apnea could be the culprit. It's important to begin by making an appointment with Dr. Elizabeth or Dr. Jeff as well as with your primary care physician. Sleep apnea can be life-threatening and should always be carefully investigated.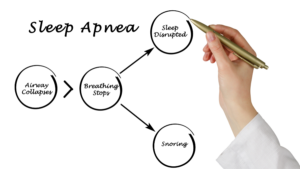 The first time we see you for sleep apnea symptoms, we will perform an assessment for signs of structural abnormalities or any physical issues that could be contributing to airway obstruction. This could include an enlarged tongue or tonsils, a small jaw or a large neck.
If your primary care doctor is concerned that sleep apnea is an issue for you, they will refer you to a sleep specialist. A board-certified sleep specialist will evaluate you by performing an overnight sleep study. This will give them more insight into the severity of the situation and help them determine the best course of treatment.
There are two different types of sleep studies your sleep specialist may recommend: a polysomnogram test or a home sleep apnea test.
Polysomnogram test: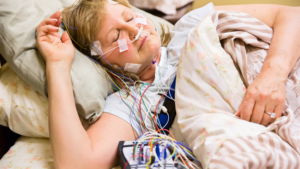 A polysomnogram test is a sleep study, performed in a sleep lab, that helps diagnose sleep-related conditions.
During your night at the sleep lab, you will be hooked up to equipment that will monitor your heart, lungs and breathing patterns, brain, general movement and oxygen levels while you sleep. In some cases, your sleep specialist will let you sleep all night long. If your physician detects signs of sleep apnea, they will more than likely wake you up in the night and hook you up to continuous positive airway pressure, or CPAP. A CPAP machine has a mask that covers the nose and/or mouth, that is connected to a tube and the base of the machine and that delivers continuous air pressure all night long, allowing the airway to remain open.
When your sleep specialist tests the CPAP machine on you, they will watch how it improves your airway obstruction and will calibrate it for your specific needs.
Home sleep apnea test:
In some cases, your sleep specialist will give you an at-home sleep apnea test kit that monitors and tests breathing patterns and sleep disturbances. This can be a good solution for individuals who find the polysomnogram test cost-prohibitive or difficult to coordinate. However, if sleep apnea is suspected from the results of your home test, your doctor may still recommend a visit to the sleep lab for further testing.
After you receive your results from your sleep specialist, if they indicate the presence of sleep apnea, we recommend you contact our office to set up another appointment. At this appointment, Dr. Elizabeth or Dr. Jeff will walk you through our records process.
During this comprehensive analysis, they will determine if a sleep apnea appliance would help alleviate your symptoms of sleep apnea. If they decide it would be helpful, Dr. Elizabeth or Dr. Jeff will confer with your general practitioner, sleep physician and lab to design a sleep apnea appliance, custom fit for you, that supports your jaw in the position that best improves your airway, often a forward position.
We may also recommend that you adjust your sleeping positioning or we may refer you to an orthodontist for another consultation if we believe that braces or other orthodontic treatment could help better keep your airway open.
If you're experiencing sleep apnea symptoms, reach out to us at 651.482.8412 to make an appointment with Dr. Elizabeth or Dr. Jeff. They will perform a thorough assessment and collaborate with your other physician(s) to find the best treatment plan for you.