Tooth trauma—it happens. Whether you've cracked a tooth playing lacrosse or need to fill a cavity from chowing down on too many treats at the Minnesota State Fair, you're not alone in the need to address weak, broken, or painful teeth. Eggert Family Dentistry often recommends crowns or veneers to patients suffering from tooth traumas. But what's the difference between these two procedures? How do you know which one is right for you?
What Is a Dental Crown?
Dental crowns have been a dentistry staple for decades. A crown helps you recover your smile after a tooth decays, cracks, weakens, or becomes discolored. Sometimes, filling or bonding a tooth is not enough for you to chew comfortably and confidently. In this case, we may recommend a crown.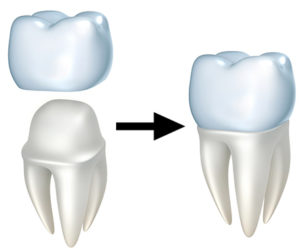 A crown is a porcelain cup that fits snugly over your tooth. Installing one takes one or two visits. On your first visit, we'll reshape your tooth and take dental molds. Sometimes, we can use our CEREC equipment to scan your tooth and make your crown in-house. If this is the case for you, we can install your crown the same day. Otherwise, we'll send the mold of your tooth to a dental lab. We'll ask you to come back in a couple of weeks to install the crown once it's ready. We'll use cement to secure the crown to your tooth, and you'll be good to go!
What Is a Dental Veneer?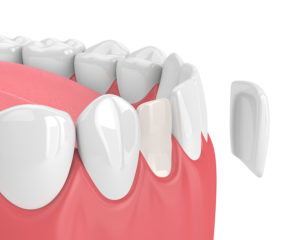 Dental veneers are a great way to recover your smile when several teeth are cracked, weak, misaligned, or chipped. A veneer is a very thin, ceramic shell. It covers your entire existing tooth structure, not just a single tooth. Once installed, veneers look and feel just like your natural teeth.
Veneers take two to three visits to design and install. In your first visit, we'll discuss the smile shape and look you hope to accomplish with your veneers. Then, we'll prepare your teeth for placement of the veneers and take molds. We'll send the mold to our dental lab for fabrication, which takes two to three weeks. In the meantime, we'll offer you a temporary solution you can wear while your veneers are custom made. At your last appointment, we'll bond them into place. You can start flashing your new smile immediately.

Should I Get Crowns or Veneers?
If you're a candidate for crowns and veneers, Dr. Elizabeth and Dr. Jeff will explain the difference between these two smile solutions and give you their professional recommendations. Typically, we'll recommend crowns for patients who have one or two troublesome teeth. Veneers are a better solution for patients struggling with multiple issues on multiple teeth.
Wondering if a crown or a set of veneers is something you need? Schedule your appointment with Eggert Family Dentistry today. We can help you decide healthiest, safest, and most comfortable way forward.