By: Dr. Elizabeth Eggert
How did this start?
Christine has been a long-time patient of Dr. Elizabeth Eggert, for nearly 15 years.  She was bothered by chipping on her front teeth and had noticed it getting worse over the last few years.  She wondered what could be done.  She was hoping the teeth could be smoothed, but that would have made her front teeth look too short.  She wondered if Dr. Elizabeth could add filling material to the chipped area, but unfortunately, Christine's tooth positions caused her to bite too heavily on the front teeth and that kept them at risk of chipping, even with a repair.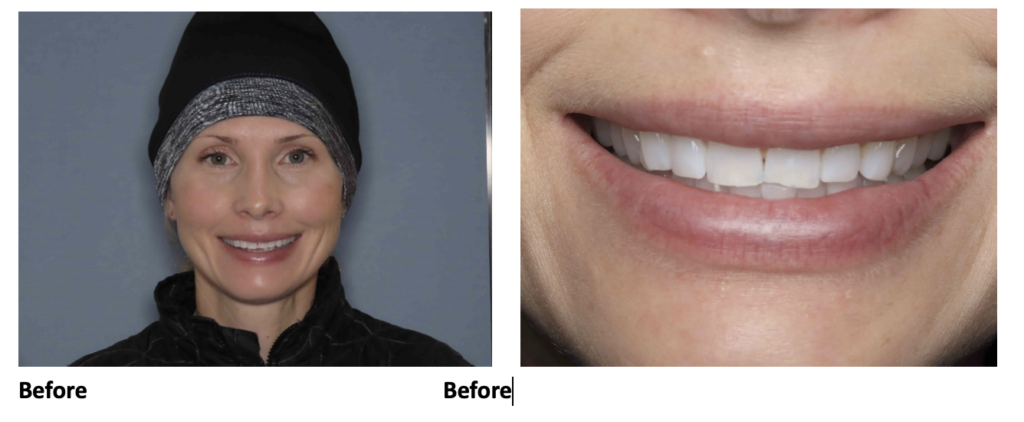 What was recommended?
Dr. Elizabeth explained that until the teeth were in better positions, the chipping would continue.  She recommended Christine consider Invisalign to move her teeth, which would then keep them from chipping.  Christine underwent the Invisalign Records Process.  Through this process, we realized that Chrisine would develop spacing between her teeth as her teeth were moved into a position where they wouldn't hit too hard against each other.  Therefore, Dr. Elizabeth recommended 4 upper anterior veneers to help change the tooth shapes and sizes and also repair the chipping.  These restorations would be completed after the teeth were moved with Invisalign.  Christine also mentioned that she was unhappy with the color of her lower teeth and wanted to whiten so Dr. Elizabeth talked to her about all of her bleaching options.
What did Christine want?
Christine's main objective was to fix the anterior front teeth that were chipped and straighten her lower front teeth as well.  She understood how her current bite was causing the chipping and understood the need for tooth movement.  She liked the idea of Invisalign since having metal in her mouth didn't appeal to her.  As for bleaching, Christine elected to try Crest over-the-counter white strips and those worked well for her, although they caused slight tooth sensitivity.  Christine wasn't too sure she wanted to commit to 4 upper anterior veneers, but understood that there were limitations to what Invisalign could do alone because she was able to view the ClinCheck simulation of her tooth movements.  She was ready to talk about a more comprehensive treatment approach and agreed to treatment.
What was involved?
Dr. Elizabeth recommended that Christine start with Invisalign in order to improve her crowding as well as give her tongue and airway more space.  Invisalign would be able to broaden and widen her smile so she wouldn't have to do a full mouth of veneers or crowns to get the look she was hoping for.  Christine's tooth movements also evened out spacing for her eventual porcelain veneers.

Examples of Invisalign Aligners
After only 11 months of Invisalign, Christine was ready to plan for her restorations.  Before starting the final planning stage, Dr. Elizabeth performed an equilibration for Christine to even out her biting contacts.  In the end, Christine agreed that by doing 4 veneers, the spacing could be more evenly distributed, giving her the look she wanted.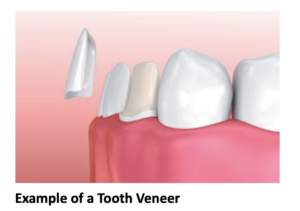 What does Christine think?
Before the procedures Christine thought that Invisalign would be an easy alternative to metal braces.  Christine wanted to preserve what her teeth looked like before and was unsure if this procedure would allow for that.  She reports "I am very happy with how the veneers look!" and she notes she likes how natural her smile is.