By: Dr. Elizabeth Eggert
From a professional teeth cleaning to preventative screening for cavities and other looming dental issues, recare visits at Eggert Family Dentistry are an important part of your child's healthcare routine. We also recognize that airway issues can mean severe health problems for your child. On this account, one of the important components of your child's recare visit is our thorough screening for any abnormalities of the head or skull or anything unusual with the positioning of the jaw, palate, tongue, throat, tonsils or adenoids that could lead to mouth-breathing and contribute in any way to an airway issue.
It all begins with how we breathe
Air that enters the lungs through the mouth as opposed to the nose isn't warmed or humidified in the nasal cavity. This makes a person more prone to infection. Additionally, blood gas studies cite a 20% drop in oxygen levels and a 20% rise in CO2 levels, increasing exhaustion, due to mouth breathing. Long-term oxygen deprivation can result in hypertension, malfunctioning lungs and enlargement of the right ventricle of the heart.
Whereas nasal-breathing is recognized as imperative to good health, mouth-breathing has many negative effects on the body. When air hits the back of the throat, it causes the airway to dry out and lose its elasticity. This makes the airway more susceptible to collapsing. In the instance of a partial airway obstruction, children may exhibit snoring tendencies. When the airway is fully obstructed, children suffer from the dangerous effects of sleep apnea.
Signs and symptoms of airway obstruction in children
Snoring
Heavy/loud breathing
Struggling to breathe at night
Daytime mouth-breathing
Dry mouth in the morning
Bedwetting
Daytime sleepiness
Underweight
Attention deficit problems (fidgety, easily distracted, interrupts frequently)
ADHD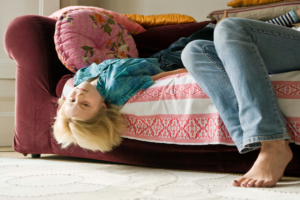 Oftentimes, airway issues in children leads to behavioral problems. This occurs as a result of restricted oxygen to the brain, leading to fitful sleep, increased daytime irritability, distraction and hyperactivity. Unfortunately, many children who experience these behavior problems are medicated for ADHD with Adderall or Ritalin and the serious nature of airway issues go undetected. In a 2014 article in ADDitude, an online journal subtitled Inside the ADHD mind, NuSomnea claims that 50 percent of children diagnosed with ADHD show behavior improvement after being treated for obstructive sleep apnea and they suggest that up to 7 million children have been misdiagnosed with ADHD when in actuality they're struggling with sleep issues, sometimes as severe as obstructive sleep apnea.
Another serious consequence of airway obstruction in children is growth deficiency. Children struggling with airway obstruction will experience restricted levels of oxygen to the brain, reducing the amount of growth hormone their body secretes. These children will be underweight and shorter in stature than their peers and may experience a plateau in their growth trajectory.
If your child is due for a recare visit or if you are concerned that your child may be predisposed to airway issues, contact us or schedule an appointment with Dr. Elizabeth or Dr. Jeff at 651.482.8412 today!