By Dr. Elizabeth Eggert
As many of you know, we are happy to see children of all ages at Eggert Family Dentistry and successfully do so every day. Yet, we understand how some parents may feel that the environment of a pediatric dental office might suit their child best initially. However, when children start getting their adult teeth, around age 6, it's time to see your family dental team who has experience in caring for those adult teeth. Adult teeth are more susceptible to plaque and calculus, which lead to cavities and gum disease, if not removed completely. Special care needs to be taken to clean the teeth thoroughly of this bacteria. Our hygienists have extensive training in removing calculus and plaque from teeth and are also trained to remove the bacteria that surround orthodontic braces. Failure to pay special attention to these areas can result in permanent damage to the adult teeth, including noticeable white spots, or cavities that form around the brackets.
A routine visit for your child in our office is spent with one of our licensed dental hygienists April or Joanna and Dr. Elizabeth or Dr. Jeff. Our hygienist will first review with you your child's past dental and medical history. They will then take a series of bitewing x-rays once each year to check for cavities and development. Our hygienist will clean your child's teeth, removing calculus, plaque, and food debris. Our hygienist will apply fluoride to your child's teeth once each year to help prevent cavities. An oral cancer screening is also performed on your child along with a caries risk assessment where we will discuss healthy habits for oral health with you and your child. Dr. Elizabeth or Dr. Jeff will complete the exam and suggest the best practices in maintaining good oral health. Your child will leave with a new toothbrush, dental floss, and tooth paste to help them practice their healthy habits at home!
Our caring staff makes your children feel right at home during their visit. We explain the procedures throughout the visit while educating children on proper hygiene habits and the importance of eating a healthy diet. Children can watch age appropriate television shows and movies both in the waiting and hygiene rooms. We also have a selection of reading and coloring books, games, and other toys for children to enjoy. We offer children comfort items while they are in the chair to make their visit enjoyable, including sun glasses for the light, a variety of flavors of polish and toothpaste, and headphones to wear to listen to the television. At the end of their visit, children love choosing a reward from the prize box!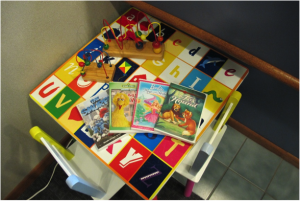 As a small office we can take the time to really focus on your child. Many pediatric dental offices see multiple patients at a time and do not always have the same luxury. A thorough exam paired with x-rays taken consistently every year is our best tool for detecting decay so we can treat and change habits early.
Why are we so passionate about seeing your whole family, including your children? Unfortunately, we have seen many young adults, who have been seeing their pediatric dentist on a somewhat regular basis for years where we note significant decay on multiple teeth at their initial exam in our office. By the time we see some of these patients in our office, the teeth need more than just a filling and these young adults and even children have to experience root canals and even extractions at a very young age. With the advanced technology we employ at Eggert Family Dentistry, we are able to catch decay often before it advances, keeping necessary treatment to a minimum.
As always, we are excited to meet more members of your family. Summer is a perfect time to get your kids scheduled. Call us today 651-482-8412!