By: Dr. Elizabeth Eggert
We're already a few months into this new year. Maybe you've intended to tackle cosmetic dentistry work in the past few years but haven't made it a priority. Make 2021 the year! At Eggert Family Dentistry, we offer many cosmetic dentistry procedures. Here are a few of our services that we think might pique your interest: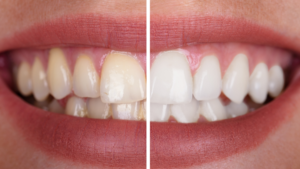 Teeth whitening: Over time, teeth become stained from certain foods, beverages, medications and smoking. Eggert Family Dentistry has many great options to help restore your pearly whites. We provide professional-grade strips and whitening trays that are more effective and gentler on your teeth and gums than their over-the-counter counterparts. Dr. Elizabeth and Dr. Jeff also offer the Zoom and KöR Whitening procedures. Zoom is performed in a single, two-hour appointment. We apply a professional whitening gel to your teeth and activate the gel with an LED light which allows the gel to better penetrate the teeth. KöR bleaching is the most effective whitening system on the market and is backed by scientific research to bleach even the previously-thought-impossible-to-bleach tetracycline stained teeth.
Invisalign®: A low-profile alternative to metal braces, Invisalign uses retainer-like tooth aligners made from BPA-free medical-grade polyurethane thermoplastic to move teeth. While this option isn't for everyone, it can be an excellent choice for people with mild to moderate gaping or crowding and helps to discreetly straighten your smile.

Read a couple of Eggert Family Dentistry Invisalign® success stories here!
Veneers: Porcelain dental veneers are ultra-thin porcelain shells that cover the front of teeth. Veneers dramatically transform chipped, misaligned, discolored or worn teeth. They can also be used to close unsightly gaps. Dr. Elizabeth and Dr. Jeff custom make dental veneers that compliment your skin tone, facial features, and personality and feel just like natural teeth. This process takes two or three visits and the results last for many years.
Read Katie's Story here to learn about the transformational power of veneers!
ICON: Sometimes teeth develop white or brown spots. This can happen for several reasons. If your teeth were exposed to too much fluoride as a child, you eat foods that stain teeth or smoke cigarettes or in some cases, if you suffer from Celiac Disease, these unsightly spots may occur. Fortunately, Dr. Elizabeth and Dr. Jeff offer a minimally invasive treatment that reduces the appearance of these spots. During an ICON treatment, Dr. Elizabeth and Dr. Jeff infuse teeth with a resin that lightens teeth without the need to reshape or remove enamel in any way.
Read Chauncy's story here to learn more!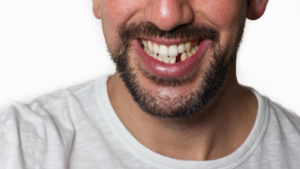 Tooth replacement: Losing permanent teeth can happen from trauma to the jaw, from gum disease or from tooth decay. Regardless, it can be an awkward situation and one that most people want to remedy as quickly as possible. If you're dealing with missing permanent teeth, you have some excellent options. These options include dental implants, bridges, partial dentures or full dentures.
Dental implants: With dental implants, a titanium post is fixed into the bone where the tooth was and the jaw bone grows back around the implant, holding it firmly in place. Then, an abutment and crown are fitted on top of the implant.
Bridges: Just like it sounds, bridges "bridge" a gap caused by missing teeth and use the neighboring teeth as anchors. These false teeth can stand in for one or more missing teeth. However, bridges can cause stress on neighboring teeth and food can get trapped underneath them, making cleaning more difficult.
Partial dentures: Partial dentures or "partials" replace one or more teeth. These false teeth attach to a plastic base and often have a metal framework. They are fairly comfortable and easy to remove for cleaning.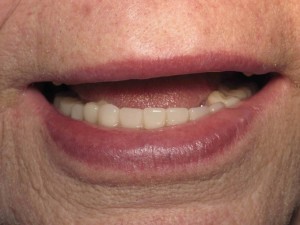 Full Dentures: Full dentures are full sets of upper and/or lower artificial teeth that are suctioned into place and removable for cleaning. While they can take some getting used to, they start to feel more normal over time. Full dentures will eventually become loose as bone mass degrades.
If you want to learn more about different tooth replacement options, read our post here!
At Eggert Family Dentistry, we have an abundance of experience and are passionate about helping our patients achieve a more confident smile. If you're interested in learning more about which cosmetic dentistry procedure can help you achieve your goals, give us a call at 651.482.8412.