By: Dr. Elizabeth Eggert
A chipped tooth is no laughing matter. Depending on the severity of the break, a chipped tooth can be embarrassing and extremely painful. At Eggert Family Dentistry, we have three options for repairing a chipped tooth: bonding, veneers and crowns. Let's take a closer look at each of these three options.
Dental Bonding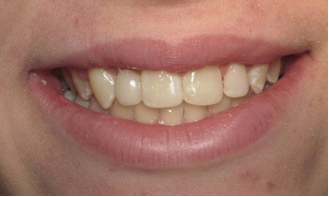 One of the biggest perks of dental bonding is the ease of the process. Dental bonding can be completed in a single appointment. Elizabeth and Dr. Jeff apply a putty-like composite resin to your tooth and then sculpt and shape it before curing and hardening the material with an intense blue light. Once polished, composite bonded restorations have a smooth and shiny finish, blending in well with the natural teeth.
Dental bonding is an effective way to repair and reshape a cracked tooth and is also used to correct gaps in teeth or cover up stains. Dental bonding usually lasts for 5-10 years and is a cost-effective solution that helps restore your natural smile.
Check out Lia's story about her experience with dental bonding here!
Veneers

Veneers are a stunning option for cracked teeth as well as stained, gaping, and misaligned teeth. They consist of a thin porcelain shell that covers your existing tooth. Applying veneers is a little more labor-intensive process than dental bonding and requires 2-3 visits to complete. At your first visit, Dr. Elizabeth or Dr. Jeff will discuss the result they hope to achieve with the veneers. Then, they prepare your teeth for the custom porcelain overlay and take an impression of your prepared teeth. This impression is then sent to a dental lab where your veneers are fabricated. In the meantime, Dr. Elizabeth or Dr. Jeff will fit you with an attractive temporary solution. The veneer preparation process takes 2-3 weeks. Once your custom veneers are created, you will come back into our office where we will polish your teeth and bond your veneers in place. We work hard to make sure they feel like natural teeth and that you love the results.
Take a look at Katie's story to learn how porcelain veneers transformed her smile!
Crowns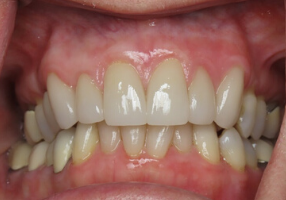 A crown is an excellent option for repairing a severely cracked or damaged tooth. Commonly made from 100% porcelain, crowns restore the integrity of a damaged tooth more than dental bonding or porcelain veneers because they "cap" or fully encompass the entire tooth. They facilitate chewing and can be color-matched to the rest of your teeth for a flawless appearance.
Creating and placing your custom crown will take 1-2 visits with Dr. Elizabeth or Dr. Jeff. A local anesthetic will ensure your comfort while your tooth is prepared for the crown. In many cases, we can take a CEREC scan of your tooth and fabricate your custom crown in our office the same day! Sometimes, however, a lab fabricated crown may still be the better choice for your situation. If that is the case, we will take an impression of your tooth and surrounding teeth and send this impression into one of our trusted labs where they will fabricate your custom crown. This process usually takes 2 weeks. In the meantime, we will fashion a temporary crown for you to wear.
When we fit your crown, we use a cement bonding agent to ensure that your crown stays securely in place. Crowns usually last 10-20 years with proper care.
Read Mary's story to learn how crowns dramatically improved her smile!
Do you have a chipped tooth that needs to be repaired? Give us a call at 651.482.8412 to make an appointment and discuss your options!